We have through the support of a range of donors created a full-time, permanent John Hume and Thomas P. O'Neill Chair in Peace.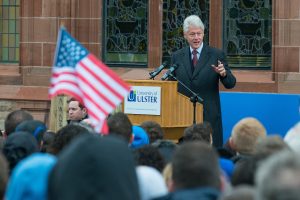 This support from donors is testament to the importance of establishing this Chair as a legacy to both men's outstanding and inspirational contributions to peacebuilding, both locally and globally.
Support Needed
The work of the Chair however requires ongoing support if we are to continue to grow out work. Specifically the Chair seeks to develop:
A Distinguished Global Peace Fellow Programme;
A Lesson Learning Programme;
Masters scholarships; and
PhD scholarships.
It also represents a belief in the need for investment in equipping a new generation of peacebuilders and in making a practical difference to ensuring peace on a global scale.
There is an urgent need for further funding, , which will be led by the Chair, and which in return will very much support its ethos and objectives.
The funding will provide the Chair with the scope and tools to develop a dynamic global program which will effect change in a tangible and practical way.
For further information, or to make a donation to help us realise our ambitions, please contact:
Caroline Armstrong, Head of Fundraising
Tel: +44 28 9536 7513
Email: c.armstrong1@ulster.ac.uk