Professor Brandon Hamber was today officially appointed as the John Hume and Thomas P. O'Neill Chair of Peace. He began work on 1 September 2015.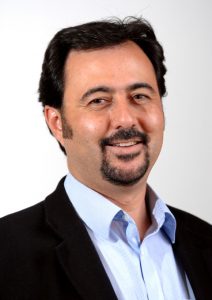 Professor Brandon Hamber is John Hume and Thomas P O' Neill Chair in Peace based at the International Conflict Research Institute (INCORE) at Ulster University. He is a Visting Professor at the African Centre for Migration and Society at the University of the Witwatersrand, South Africa. He is also a member of the Transitional Justice Institute at Ulster University.
He was born in South Africa and currently lives in Belfast.  In South Africa he trained as a Clinical Psychologist at the University of the Witwatersrand and holds a Ph.D. from the Ulster University. Prior to moving to Northern Ireland, he co-ordinated the Transition and Reconciliation Unit at the Centre for the Study of Violence and Reconciliation in Johannesburg.  He co-ordinated the Centre's work focusing on the Truth and Reconciliation Commission.
He was a visiting Tip O Neill Fellow in Peace Studies at INCORE in 1997/1998.  He was also the recipient of the Rockefeller Resident Fellowship (1996) and was a visiting fellow at the Centre for the Study of Violence in Sao Paulo, Brazil.  In 2010-2013 he was a Mellon Distinguished Visiting Scholar at University of the Witwatersrand in Johannesburg. He has been awarded The Paul Harris medal for contributions to peace by Rotary (2013), and was listed as one of the Top 100: The most influential people in armed violence reduction by the Action on Armed Violence Network (2013/2014).
He has consulted to a range of community groups, policy initiatives and government bodies in Northern Ireland and South Africa.  He has undertaken consulting and research work, and participated in various peace and reconciliation initiatives in Liberia, Mozambique, Bosnia, the Basque Country and Sierra Leone, among others.
He has lectured and taught widely, including, on the International Trauma Studies Programme at Colombia University, New York and the Post-War and Reconstruction Unit, University of York; and at the University of Ulster.
He has written extensively on the South African Truth and Reconciliation Commission, the psychological implications of political violence, and the process of transition, masculinity and reconciliation in South Africa, Northern Ireland and abroad.
He has published some 25 book chapters and 30 scientific journal articles, and 4 books. His latest book Transforming Societies after Political Violence: Truth, Reconciliation, and Mental Health was published by Springer in 2009, and published in 2011 in Spanish by Ediciones Bellaterra and entitled Transformar las sociedades después de la violencia política. Verdad, reconciliación y salud mental.
In 2015, he published Psychosocial Perspectives on Peacebuilding (Editors: Hamber, Brandon, Gallagher, Elizabeth)and Healing and Change in the City of Gold: Case Studies of Coping and Support in Johannesburg (Editors: Ingrid Palmary, Brandon Hamber, Lorena Núñez). Both published by Springer.
He is also represented on a range of Boards and editorial committees: