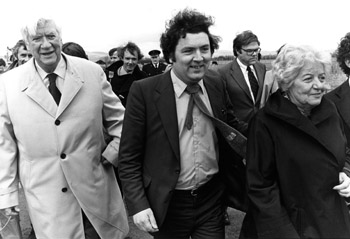 'Peace making is not an event, but a process.' (John Hume, Nobel Peace Laureate)
The University of Ulster exists to build a better Northern Ireland – a prosperous, inclusive and confident one that contributes positively to the wider world. We have pioneered work in peacebuilding since the 1970s and we are deeply proud of the contribution we have made to peace locally and globally. But we know that, given additional capacity, we can do more, much more, and we have ambitious plans to scale the impact of our work.
To this end, Ulster University has created the John Hume and Thomas P. O'Neill Chair in Peace in line with its one top strategic priorities. The Chair, based at the International Conflict Research Institute (INCORE) in Derry~Londonderry, held by Professor Brandon Hamber and experienced researcher practitioner who combines rigorous research and teaching with practical and policy impact. As the Chair he will work actively to consolidate peace both locally and globally.
The Chair will honor Nobel prize winner John Hume, who played a pivotal role in the peace process, and Thomas P. O'Neill who, as Speaker of the House of Representatives, was a major force for enlisting the United States in advancing peace in Northern Ireland. The two men worked together as colleagues and friends. From 2002- 2009 John Hume, in his honorary capacity as Tip O'Neill Chair in Peace Studies at the University of Ulster, brought an unparalleled group of international figures (e.g. Bill Clinton, Hillary Clinton, John Kerry, Kofi Annan), to the Magee campus in Derry~Londonderry to lecture on peace.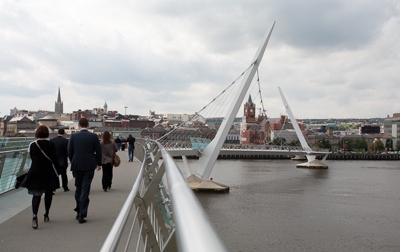 INCORE has pioneered practice-based learning on conflict, developed a global network of peacebuilders and built a proud heritage of active involvement in peacemaking. The problem of conflict remains massive and urgent. The establishment of the John Hume and Thomas P. O'Neill Chair in Peace will honor the legacy of two great men of peace by giving a new generation of peacebuilders their best chance of success.
Specifically, the John Hume and Thomas P. O'Neill Chair in Peace will enable Ulster University to scale its support for peacebuilding around the world by:
Expanding our capacity to make direct contributions to peace processes;

Building the next generation of peacebuilders locally and globally;

Enhancing our expertise in translating research into policy and practice outcomes;

Embedding systematic and rigorous lesson learning in our research




and teaching;

Widening access to our learning to the developing world and particularly countries in conflict;

Making accessible practical lessons from our research, exchanges and networks;

Creating a comprehensive database that makes accessible the invaluable lessons of successful peacebuilding from Northern Ireland;

Strengthening the sustainability of our work for the long term.
The emphasis is also on building the next generation of peacemakers and peacebuilders both in Northern Ireland but significantly also in countries in conflict.