On 12 January 2016 the Chair travelled to Berlin to the Sigmund F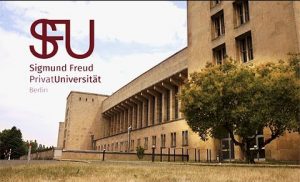 reud University where he was asked to deliver a public lecture as part of their social psychology series. The title of the lecture Professor Hamber gave was "Ambivalence as a goal of reconciliation". The lecture explored how for victims of political violence they are often asked to live with ambivalence in a productive way, i.e. continue their lives after a peace process despite the
suffering and loss they have experiences. Similarly, Hamber argued that societies emerging from conflict need to find collective social and political ways of living with the ambivalences of the past. This type of thinking is difficult to reconcile with the approach of governments and policymakers, as it is hard to imagine how one can create policy for long-term (perhaps never-ending) processes for which there is no quick fix.